When ants come marching in, spiders come crawling down, or flies start buzzing around, who's responsible for taking care of the pest control—the apartment owner or the condo association? After all, as an apartment owner, it's important to know who to contact when pests begin to disrupt the comfort of your home. While the rules regarding pest control responsibility likely differ by HOA or condo association, all HOAs will generally have regulations in place to determine who's responsible for managing the situation.
Usually, HOAs will handle pest issues in common condo areas–but there are also a few occasions where they might be responsible for pest control issues that occur in your own apartment, too! Keep reading to discover the answer to the question, are condo associations responsible for pest control, and how to best handle a pest infestation in your apartment–with or without the help of your HOA.
Are Condo Associations Responsible For Pest Control?

If the pest infestation is occurring on your private property, the answer to that is, probably no. However, HOAs will usually handle pest problems that occur in common areas or public spaces. If your condo has a public exercise room, pool area, picnic area, or outdoor park for all residents to enjoy, then it's likely that your HOA will be the one in charge of scheduling pest control services to remove any bugs or rodents in the public spaces. That means ground squirrels burrowing in the condo park will be taken care of by the HOA, not by homeowners. After all, your annual fees paid to the HOA help cover the cost of any shared amenities, such as the maintenance and care of all public spaces. Condo HOAs should complete both routine preventive pest control measures, and deal with any invasive populations in the common areas that overcome those preventative measures.
---
---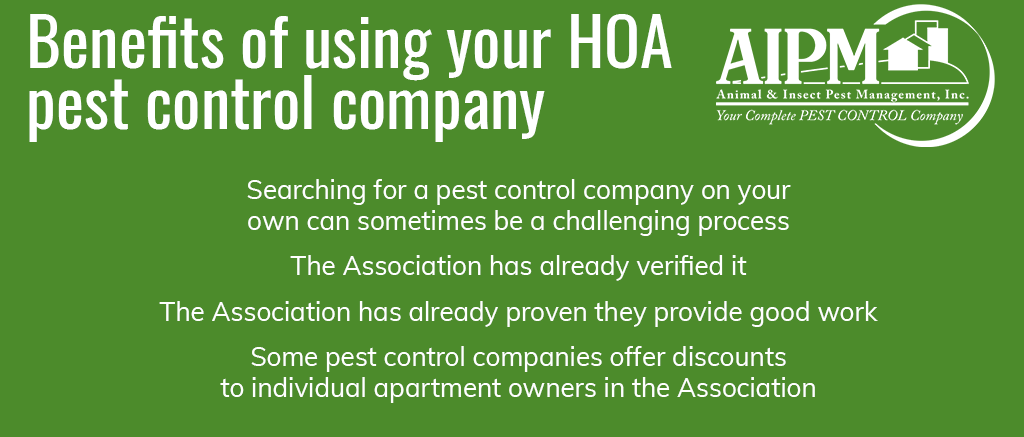 On the other hand, pest problems that occur inside an individual condo and not in a common area usually aren't covered by your HOA. Ants hunting down fallen food scraps in your kitchen are considered a personal issue, rather than a public one. The same goes for a rodent infestation, or any other pest invited in by the conditions of a personal home. This isn't always the case though. In situations where the HOA fails to prevent a pest infestation from spreading, then oftentimes HOAs are responsible for handling the pest control. For example, if there's a flea problem in a common area that the HOA doesn't properly handle, which leads to fleas causing an issue inside your own apartment, then some HOAs might accept responsibility for the issue and cover the pest control services themselves. Be sure to reach out to the proper condo association representative in your own HOA in situations such as these, in order to determine the burden of care, as well as ensure that you're able to take advantage of the complimentary resident services offered.
Let Us Help You Manage the Pest Problem
If you've tried to determine "are condo associations responsible for pest control" and come to the realization that you–as the apartment owner–must deal with the pest problem on your own, a great way to quickly and effectively solve the problem is by contacting the same pest control company that your HOA uses. Not only can you already trust the pest company, since they've been verified and proven to provide good work on previous pest problems with the HOA, but some pest control companies will even offer discounts to individual apartment owners in the HOA. That means that you can access great service at even more affordable rates! Searching for a pest control company on your own can sometimes be a challenging process with a lot of trial and error—and a pest infestation in your apartment is one situation where you definitely don't want to waste time experimenting with unsatisfactory services.
---
---
If you're trying to handle a pest infestation in your apartment all on your own, there are a handful of DIY methods you can try depending on the type of pest. Remember, the best form of pest control is taking preventative measures to stop a pest issue before it even begins, such as by sealing any entry holes, cleaning up counters and kitchen spaces, and sealing windows and containers tightly. However, the best way to make sure that you truly rid your place of pests is to seek professional help before the pest problem gets worse. Professional pest control companies offer the expert knowledge and resources required to tackle pervasive pest problems effectively.
Conclusion
Living in a condo association can provide apartment owners with a lot of benefits—including compensated pest control services, if the conditions are right. And, in the cases where you as the apartment owner are responsible, instead of the HOA, it's a good idea to reach out to your HOA's preferred pest control company for services you can trust!
---
---