As an entomologist, biologist, and residential pest control expert, I am fascinated by the bustling activity of ants during the summer season. These tiny insects are known for their remarkable social behavior and ability to forage for food, which can sometimes make them a pest during the warmer months. In this article, we will delve into the reasons behind the increased ant activity during summer, their behavior and diet during this season, and we'll talk about effective pest control strategies to manage ant infestations that may differ from those used in spring.
Ants behavior in summer months
As we all know, ants are social insects that live in colonies, with each colony consisting of thousands of individuals. During the summer months (just like crickets, bees, cockroaches, pincher bugs, silverfish, spiders), ants are particularly active due to favorable environmental conditions, such as warmer temperatures and increased availability of food. Ants are normally opportunistic feeders, and their diet consists of a wide variety of food sources, including sugary substances, protein-rich foods, and even dead insects. With the abundance of food resources available during the summer months, ants can forage extensively, which means that they will often invade human dwellings in search of food.
One of the key behaviors that gives ants an advantage over other insects during summer is their ability to establish foraging trails. Ants lay down pheromone trails, which are chemical signals that guide other ants to food sources. When a scout ant discovers a food source, it leaves a pheromone trail behind as it returns to the nest, allowing other ants from the colony to follow the trail to the food source. This can result in an ant infestation with a continuous stream of ants marching in and out of homes, kitchens, and other areas where food is available.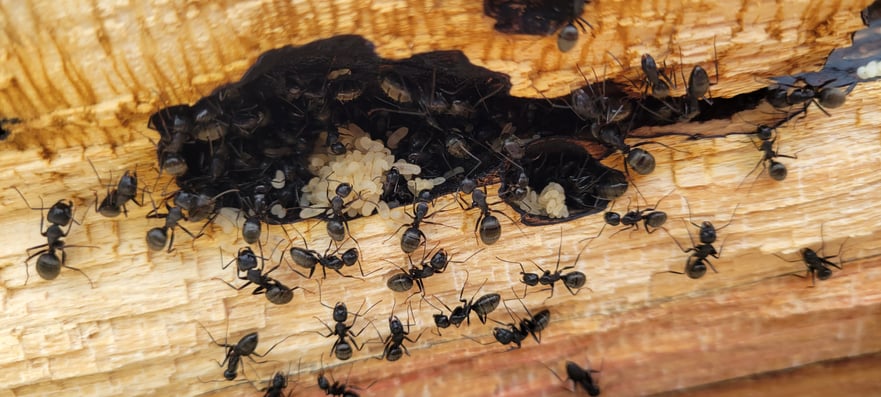 In addition to their foraging behavior, some ants species can also cause damage to your property or human health issues during the summer months. Carpenter ants are known for their ability to excavate wood and create nests in wooden structures, causing structural damage. Other ant species, such as fire ants, can pose a threat to human health due to their aggressive behavior and painful stings. Fire ants are known to build large mounds in lawns and other outdoor areas, which can become a safety hazard during summer activities.
So, what can be done to manage ant infestations during the summer months?
Ants tend to be more active and widespread during summer, which calls for a different approach to ant control than what you might have implemented during spring. Here are some effective strategies that can be employed to control ants in the summer:
Remove food sources: Ants are attracted to food, so it is crucial to keep all food sources properly sealed and stored. Clean up spills, crumbs, and food debris promptly, and store food in airtight containers. Pet food should also be kept in sealed containers, and feeding areas should be cleaned regularly. Seal entry points: Ants can enter homes through tiny cracks and gaps in walls, windows, and doors.
Seal all potential entry points to prevent ants from gaining access to your home. Use weatherstripping and caulk to seal gaps in doors and windows, and repair any cracks or gaps in walls or foundations.
Keep indoor and outdoor areas clean: Regular cleaning can help deter ants from establishing foraging trails. Some of the things you can do to keep indoor areas clean include: sweeping and mopping floors, vacuuming carpets, and cleaning countertops, cabinets, and other surfaces regularly. As you get ready to move outdoors, make sure you keep lawns well-maintained, remove debris, and trim back vegetation to prevent ants from nesting near your home.
Use ant baits: Ant baits can be an effective tool in managing ant infestations during the summer months. Ant baits contain slow-acting insecticides that ants carry back to their nest. As the colony feeds on it, the bait will eventually eliminate the entire colony. Place ant baits near ant trails and potential entry points to attract ants and disrupt their foraging behavior.
Consider calling a Residential Pest Control professional: If the ant infestation persists despite your best efforts, don't give up! It may be time to seek residential pest control services. Pest control experts have the knowledge and experience to effectively identify ant species, locate nests, and implement targeted treatment methods to control ant infestations in and around your home during the summer months.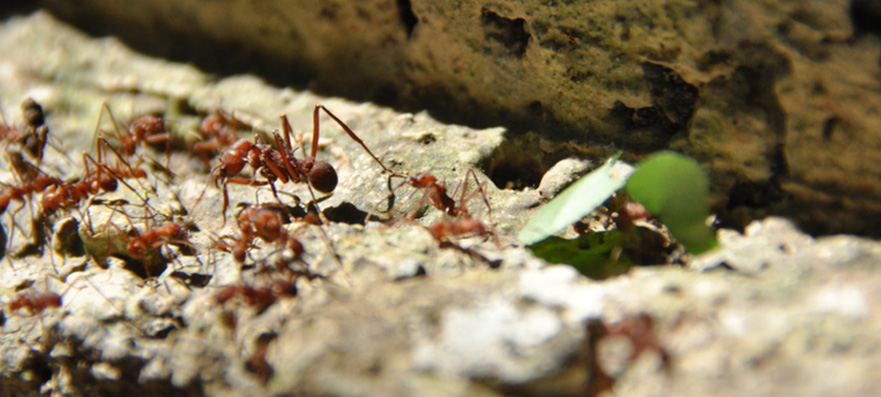 It's also worth noting that different ant species may require different treatment approaches. For example, some ant species may be more attracted to sugar-based baits, while others may prefer protein-based baits. In such situations, it would be important that an expert assists you in identifying what type of ant you're dealing with so they can advise you in selecting the most appropriate bait and treatment method for effective control. AIPM assists all Southern California homeowners in the prevention and removal of spider infestations, for locations in Simi Valley, Santa Clarita, Oxnard, Sherman Oaks, Northridge, Malibu, Woodland Hills, and beyond!
It's important to remember that ant control efforts should always be conducted in a safe and environmentally responsible manner. Avoid using excessive amounts of insecticides, and always follow the instructions on the label. If using ant baits, place them in areas where they are inaccessible to children, pets, and non-target wildlife.

Conclusion
In conclusion, just like crickets, bees, cockroaches, pincher bugs, silverfish and spiders, ants can become an unmanageable pest during the summer months due to their increased activity levels and foraging behavior. However, with proper understanding of their behavior and diet during summer, as well as effective ant control strategies, it is possible to manage ant infestations and keep your home and outdoor spaces pest-free. By implementing proactive measures such as removing food sources, sealing entry points, maintaining cleanliness, using targeted ant baits, and seeking Residential Pest Control professional pest control assistance when needed, you can enjoy a summer season without the hassle of ant infestations. Remember to always follow safe and environmentally responsible pest control practices. When using insecticides, avoid using excessive amounts that can harm your pets, family or other beneficial insects or animals, and always follow the instructions and precautions provided by the product label. A good alternative to insecticides is Integrated pest management (IPM) approaches, which emphasize a combination of physical, cultural, and chemical control methods that can be effective in managing ant infestations while minimizing the impact on the environment.
Ants can be a persistent pest during the summer months, but once you understand their behavior and diet during this season, as well as effective and responsible pest control strategies such as proactive measures and seeking residential pest control assistance when needed, they can be managed successfully and you can keep your home and outdoor spaces ant-free and enjoy a hassle-free summer season. Remember, prevention and early intervention are key to effective ant control, so be vigilant and take proactive steps to keep ants at bay during the summer months.